Anna Topf
Kinesiologist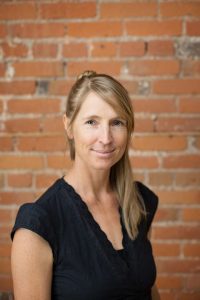 Anna has been a certified Kinesiologist (aka "Exercise Therapist") for over 14 years. She can help you identify the source of your body's innate intelligence to heal from aches and pains through a series of tests, including the Functional Movement Screen and a CHEK Postural analysis.
Anna will guide you towards releasing and stretching out the tight restrictions while strengthening and revitalizing the weak areas by giving you a personalized home program. In each session you will also have hands on massage and myofascial release to help facilitate your body's healing process.
The human body constantly fascinates and inspires Anna to continue learning new skills to help her clients.
When Anna has time off it is usually spent outdoors and often with her 7-year-old daughter. Hiking, skiing, biking and getting dirty in the garden keep her inspired and healthy.
anna@blackbirdphysio.com